Talk Show at Edward Thorpe Gallery
There are two very interesting aspects to "Talk Show," a group exhibition of painting.  One is that the six participants are women.  The works are representational and often figurative, the figure being always female.  Yet the press release makes absolutely nothing of these facts. Nor should it. There is, happily, no point to make.
There is, however, a second intriguing feature, namely, a sense that the show submits a sort of status report on the current situation of painting. Most of the works waft the perfume of tristesse, of attenuation, and dress up in incongruous images, as if rummaging through an attic of dusty painting props.  Think Miss Havisham grafted on to Pierre Bonnard and Florine Stettheimer.  Twilight pervades. Even the wonderfully robust Judith Linhares often fills her skies with the jeweled colors and bold stripes of a setting sun.  Two of her three entries here feature this blazing background, one a hilariously composite portrait of "Mother."  Sic transit gloria–this mother is as charming as a child in her pinafore, as little trustworthy as her Pinocchio nose is long, as unruly in her electrified nimbus of hair as a bride of Frankenstein. But she is more than reified, she is memorialized, almost literally a statue, totemic, with plinth feet perhaps of clay but solid enough to make her difficult to topple.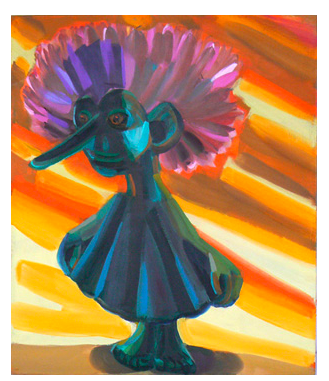 Solar rays encore in "Cove," where Linhares' signature nymphs gambol in a hallucinogenically heightened nature. Nymphs, fairies or simply hippy flower children–their habitat exists only in the past.  Remember that "faerie" means a fading away of ancient realms. Contemporary versions of the arcadias of Poussin and Watteau, these hedonistic havens evoke a similarly lost world, a pre-eviction Eden. Like Olive Oyle or Matisse nudes, Linhares' cove dwellers are sinewy and unbreakable.  Their slap-happy bonelessness implies an innocence and otherworldliness, as if they were babies, or sinuous naïve mermaids.
The eulogy continues in the canvases of Judith Simonian, although her fascinatingly atmospheric interiors seem to have been worn thin, like a fabric rubbed to near transparency and thus could not be formally more different from Linhares' assertively firm strokes.  Indeed, there is an osmotic quality to Simonian's spaces, objects seeping through each other with amniotic fluidity. Architectural landmarks strain their moorings. Windows and furniture evanesce like apparitions. The walls flutter, tattered remnants permeable to the outside.  Anomalous semi-abstract blocks and patches float, hover in still oddly intimate interiors.  There's something of the garret in these rooms, an almost antique penury.  To Bonnard's claustrophobic patterned domesticity and a dash of Leipzig dislocation, add the Ashcan school's gritty social realism.
All of the paintings here exude an effective melancholy. And, except for Bettina Sellman, whose method involves a more linear approach, a wet, liquid transparency ebbing and flowing around a beautiful calligraphic line, the rest of the participants alternate between gestural boldness and amorphous inwardness.  Maureen Cavanaugh's compelling women, though nothing like Linhares', do share their slightly folksy, anatomical elongation.  (Joan Brown also comes to mind.) Clare Grill ennobles the humble everyday object–slippers, a wonderful birthday cake, a girl's dress powerfully cropped to make the most of a large blood red stain over the heart .  These are all emphatically rendered, but one house in the woods wavers with dream-like indeterminacy. Meanwhile, Katherine Bradford's mirage, "View of Hose Man," matches that luminosity, shimmer for shimmer, edges and certainty scraped away. Two other Bradford works present Utopian possibilities-a welcoming lady liberty, an enchanted theatrical circle, but are accompanied by a third painting of a barely distinguishable and therefore ostensibly departing ferry, lighted like that emblem of distant longing, the ship in Fellini's  "Amarcord."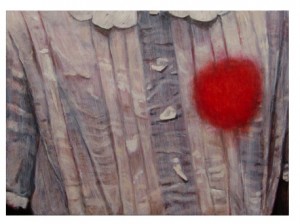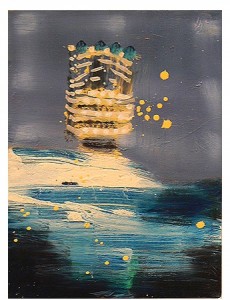 To insist on this valedictory theme is to do violence to what is after all a subtly curated group of idiosyncratic talents.  In fact, the overwhelming feeling with each of the works is that the viewer is entering a very private vision–compelling but somewhat mysterious. None of the works is physically large or makes large claims for painting's place. But perhaps that is the latest legacy of painting. Having pronounced, raged, declaimed, deconstructed, gone mute, gone corporate, gone pornographic, it is now most happily at home in a shabby bathrobe, casually offering tidbits from its well-stocked larder, tidbits of history, personal and public, tidbits of technique, to guests willing to drop a little acid while munching on their hors d'eouvres.  If this sounds dismissive or trivial, it is not meant to.  What more felicitous blend of unflinching modesty and ambitious vision-seeking? Arguments have been made to the effect that the best American art is that of the visionary eccentric– Alfred Pinkham Ryder, Ralph Blakelock, Elihu Vedder.  In skipping over the more bombastic and self-regarding modernist examples of 20th century American painting and going to these 19th century sources, these artists have also gone, ironically, straight to the newest and best, the most poetic. Reaching back for the moody dim sunlight or glowing moonlight of Albert Pinkham Ryder or the subjective gloaming of Ralph Blakelock and  the nocturnes of Elihu Vedder they have tapped into a vital, regenerative stock. Pale and wan many of these paintings may be.  Don't let the air of languid melancholy fool you.  Theirs is a tough and resilient anomie.
Howard Foster