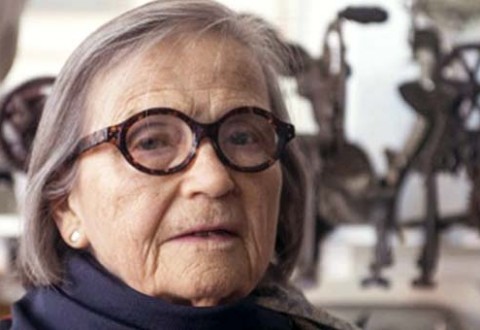 Remembering Ellen Lanyon  This compilation of words and pictures builds on the memorials, the receptions and conversations among friends following the passing of Ellen Lanyon.  Deeply missed and hard to forget for the lives that she touched, we intend this document to be open for continued remembering and appreciation.  She was magic.  We were anticipating […]
Matt Freedman is a sculptor, performer, writer and curator. He has exhibited with Valentine Gallery, Pierogi Gallery, vertexlist, Flipside, Fivemyles, The SculptureCenter and Long Island University. Venues of performances include PS 1 MOMA, The Brooklyn Museum, The Kitchen, Brooklyn Fireproof, Brooklyn Academy of Music at Fivemyles, Galapagos Performance Space. He teaches at the University of Pennsylvania […]
Full interview interview with Jackie Ferrara in her studio in July of 2012 with Andrea Blum.
Jackie Ferrara (born 17 November 1929, Detroit) is an American sculptor best known for her pyramidal stacked structures. Her work is in the collection of the MOMA, the LACMA, the Louisiana Museum of Modern Art, and the Phillips Collection, among others. Go to http://www.jackieferrara.com/
Born in Detroit, the New York-based Tom Kovachevich is both an artist and a physician. He first exhibited his work at the Penthouse Gallery at MOMA and was included in Documenta V, 1972. In 2011 he exhibited at Callicoon Fine Art in NYC. In each video segment of the Thomas Kovachevich interview, a question is asked and answered.
This interview is produced by Romanov Grave and Davidson Drasler Productions.
We interviewed Judith Linhares at Ed Thorpe Gallery in New York during her show, Riptide, in March of 2011. In each segment one question is asked and answered, including topics like the "Bad Painting" show, her first exhibition and numinous moments.
We interviewed Don Dudley at I-20 Gallery in New York, during his show in February of 2011. In each segment one question is asked and answered. Dudley speaks about how he became and artist, his first show in Texas in 1958, moving to New York, his materials and aesthetic and more.
A part of A First Quarter, Lawrence Weiner, 1975 A part of LIGHTNING, Paul Kos, 1976 A part of CLOCKSHOWER, Gordon Matta-Clark, 1976
Our video program is inaugurated with  Boomerang by Nancy Holt and Richard Serra. Romanov Grave's video program will feature  a revolving presentation of historical significant video (and film) work  intercut with contemporary material by artists working in video (and film) from  a broad international pool. Watch out for forthcoming video by Peter Drake, Rita Myers, […]