Liz Collins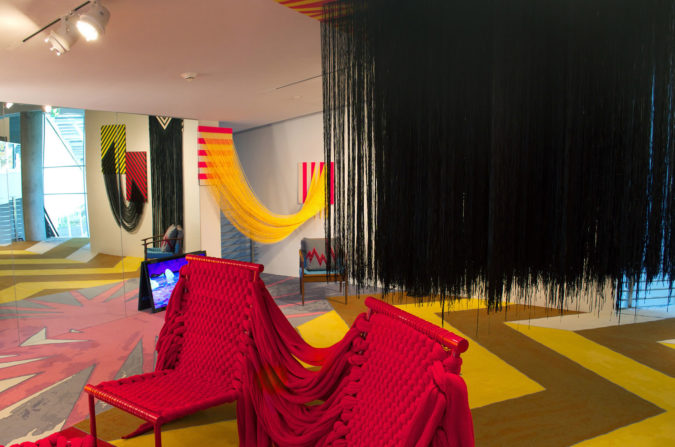 Liz Collins is a New York City-based artist and designer known for her textiles, installations, and KNITTING NATION, her live labor and site specific installation project. Collins recently created Energy Field, a lounge in the Tang Museum at Skidmore College, where her paintings and three dimensional textile works co-exist with her home textiles and furniture. She was also an artist in residence at the Museum of Arts and Design in New York through the end of January 2016 and created a massive woven installation for the staircase in the lobby there in March 2016. Her solo exhibitions have been at Heller Gallery, NY; AMP Gallery, Provincetown, MA; Occidental College, LA; Textile Arts Center, NY; AS220, Providence, RI; and the Knoxville Museum of Art. Her work has been included in numerous exhibitions including at the ICA/Boston; Leslie Lohman Museum of Gay and Lesbian Art; the Museum of FIT; the Milwaukee Art Museum; the Museum of Arts and Design; MoMA; and the Tang Museum at Skidmore College. Collins' awards include a USA Fellowship, a MacColl Johnson Fellowship, and residencies at Haystack, Yaddo, and AIR Alaska. Collins received both her BFA and MFA from RISD and was an Associate Professor there from 2003-2013. She has since taught at PRATT, SAIC, and MICA.
Question:
For years you've worked in both fashion and fine art, and made work that defies categorization in either.Your work employs the materials of traditional craft and modern design, at times, sabotaging their utility. Perhaps you also capsize the function of art. As a foe of categories, how would your characterize your new work, the immersive rooms that combine ceiling and wall hangings, massively woven rugs, and intertwined chairs?
Answer:
You just did a good job with that by saying "immersive rooms".
I think one of my general intentions/desires in my art making, in whatever context I have worked has been to create an experience.
When I did my knitwear collection in the late 90s to early 00s, much of what I made was designed to have an immersive impact on the wearer, from making that person feel transformed, to giving that person center stage as the one wearing the unusual and alluring garment. I used to hear feedback from people who had purchased my pieces that they had great sex the night they wore my dress, or everyone wanted to touch them when they wore my sweater…stuff like that. That was always a major turn on for me: to be subversively connected to people and their sensual experiences through my/their clothing. I have been thinking lately that I am a sensualist.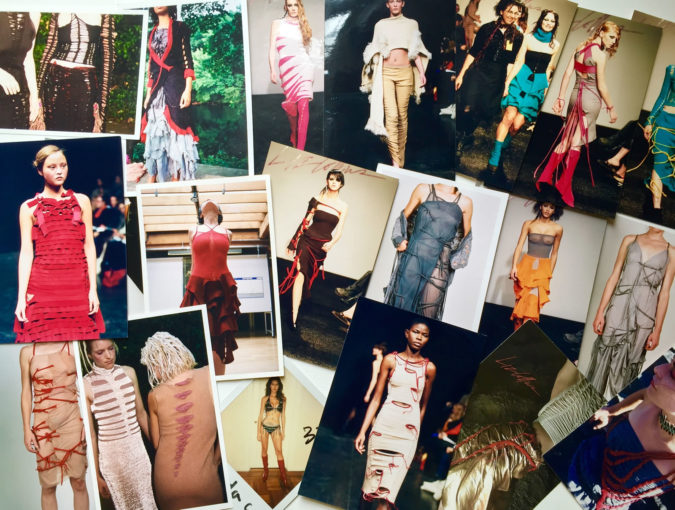 In 1986, When I was 17, I built a big canvas hut with another artist named Tad Beck (also 17 at the time) on the campus of our high school, and we painted the insides with these big pop psychedelic forms- imagine Peter Maxx mixed with Marimekko. It ended up sort of sad and ineffective, because soon after we built it, it poured rain for 3 days, and it made the canvas roof pool with water, so no one wanted to enter our dank mildewed cave. But at that time I was already really invested in creating environments that people could be in and feel things through containment, color, pattern, light, and material. I guess it was the emergence of my longer term thematic underpinning that I sometimes I think of as soft architecture.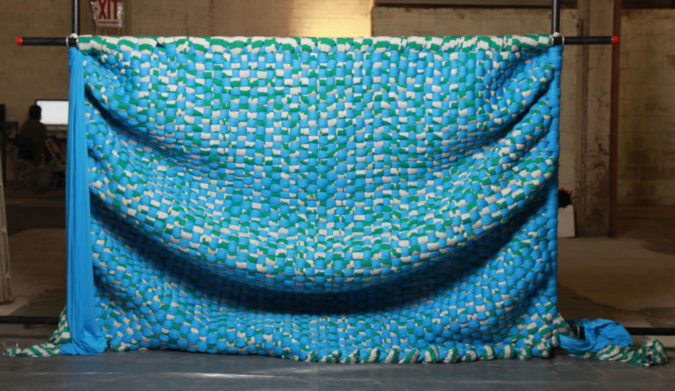 My favorite thing now is to be given a space and free reign (and ideally a budget) to transform into an environment. So I have come full circle to that 80s hut. My minds eye tends towards extremes, which plays out in the physical realm with visions of padded cells made with all bumpy chunky soft white fabric and steel; or rooms filled with a cacophony of brash explosions and shards of pattern that vibrate and assault the senses. Of course all the furnishings are a fully integrated aspect of these spaces and also coming from my studio, in some cases as collaborations with other creative friends. Soon after Energy Field opened, I was hearing reports from the museum of the great things people were doing in the space, from body and sound vibration workshops, to meetings of  individuals and student groups who needed space to connect and gather more intimately. Hearing the things kinda made me want to cry as I am so moved that I was able to create a space that gave that to people. In a way, it's a gift economy that functions for me in the art world that transcends the commerce or monetary realities. Artists and designers are so often giving people the gift of experience. That is one of our callings – to give ourselves the gift of expression through activating our god given gifts, and give others the gift of experience.